Overview
Since founding Puddingstone Properties in 2002, our #1 objective has been to develop and foster long-term relationships with our tenants, our suppliers and contractors and our community neighbours.

We believe that this is done through:

- OWNING the properties that we rent. We do not manage other landlords properties; everything we rent is owned by us as a long-term investment.

- performing BACKGROUND and CREDIT checks on prospective tenants so that we can be confident that they will be respectful of our property and considerate to neighbours.

- dealing with REPAIRS and defects in an expedient manner.

- being APPROACHABLE and above all PROFESSIONAL at all times.

- having an ongoing and continual long-term PLAN of renovations and improvements.

At Puddingstone Properties we are experts at providing the special attention that is often overlooked in the property management field. Our expertise and dedicated commitment to quickly responding to client concerns has made us a growing, successful and respected organization.

Most of our properties are within walking distance of the downtown core, Dalhousie University and the conveniences of urban living.
Why Puddingstone Properties?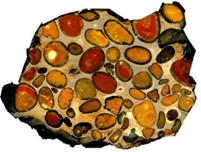 We often get asked why we named our company 'Puddingstone'...

Puddingstone is a type of naturally-occuring conglomerate that consists of rounded pebbles (e.g. flint) whose colors contrast sharply with the color of the finer-grained, often sandy, matrix or cement surrounding them (e.g. silica quartz).

To us, the rounded pebbles represent the individual properties that we own and the surrounding matrix is the management services that we provide around each property to form a cohesive and solid product.

Our logo represents this in a stylized form.